Customer Testimonial - Quality and Pride in Craftsmanship and Service
We value each and every one of our customers and their privacy. If you would like to talk to some of them we will provide their contact info to you upon request.
---
I wanted to thank you again for many things,
#1 - for answering my call on a Sat. afternoon, it was unexpected for sure!!

#2 - For trusting me and being there ready to take quick action for my tenant when I did not know you at all. I got your name from Google search.

#3 -- For coming out today to quote the job - I am sure this is not possible all of the time but thank you!

#4 - For thinking about my needs and figuring out a really great and inexpensive solution that will be great and last as long as I need it.

#5 - For showing up and being able to complete two totally different jobs with complete competency for me today.

#6 - For your very fair pricing.
Thank you Times a Whole Bunch!! and I will surely recommend your services and use you again when I need a contractor!!
Warmest Regards to you.

Linda C. - Plantsville, CT
MERIDEN BASEMENT FINISHING - My wife and I highly recommend Michael DiChello/USA Homes for any home improvement project. Mike did a fantastic and outstanding job remodeling our kitchen, updating our Master and hallway bathrooms and even finishing our basement to give it the look that we've always dreamed of! Mike is truly a professional. He's very meticulous and incredibly thorough and produces the highest quality of workmanship. He was always available and kept us updated throughout the project. His experience, skill and product knowledge is why each project exceeded our expectations in every way. We will be hiring him again for future projects and have already recommended him to friends and familyn.

Sal & Liz L. - Meriden, CT
What impressed me from the start was Mike's attention to detail – during the initial assessment every facet of the would-be project was examined at length. With Mike it's not just about 'the job.' He really goes above and beyond to make sure that you are getting exactly what you want and expect, and will take the time up front to go over all of the fine details to make sure of it. With this being our first home remodel, we knew that we wanted the basement converted into additional living space, but had absolutely no idea how to get from start to finish. What made Mike stand out from others was that he talked with us about all our different options – building materials, flooring, etc. – and what he would recommend or suggest for our trouble spots given the layout of our basement and current condition. Not an upsell, just an honest opinion from someone with a lot of experience. There is no making promises and not delivering with Mike – he's honest and realistic, and that is very much appreciated. The work Mike does is meticulous – you know at a glance that he takes a lot of pride in his work. Our basement took a week to complete – from floor to ceiling; sheet rock to the mounting bracket for our TV. I couldn't believe how much he was able to do in a week. And it was absolutely beautiful. And completely within the estimate we were initially given – even with repainting the ceiling so that it would match the trim, and adding crown molding (again, this level of detail and care is what sets him apart from the rest). My husband loves his new man cave, and we get compliments from friends all the time about it. We'll never even think of calling anyone else but Mike for any remodel work that needs to be done in our home – the price is more than fair, the work is completed within the estimated time frame, and the quality of that work cannot be beaten. Plus Mike is honest, trustworthy, and he knows his stuff – you can't ask for a better combination.

Erin & Jason - Bristol, CT
Mike DiChello, the owner/contractor for USA Homes LLC, came to my house the day I called for an estimate, gave me the lowest estimate, showed up exactly when he said he'd be there, did precisely what he said he would do, and did some of the best work I have ever seen. I gathered multiple estimates, researched both the job and USA Homes LLC, and I am convinced, due to his professionalism, his outstanding workmanship, and the reasonable price I paid, that I got the best possible work and the best possible deal. I will use USA Homes LLC again without hesitation, and I highly recommend Mike to all those interested in exemplary work on their home.

Kristina T- S. - Meriden, CT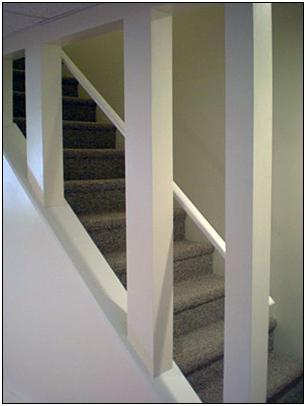 During the winter of 2010-2011 our house received several thousand dollars' worth of ice and snow damage.
We had settled with our insurance company for the amount it would cost to get all the damage completed. Now was the dreaded step of finding a good and reasonable home improvement contractor. We have only been in this house for 4 years and this was our first home. I did have a few friends that could have done the job but I have learned my lesson about having friends work for you, most of the time they are not your friends after the job. I did ask around but did not get any good feedback. So now my only hope to find someone was thru the yellow pages or on line. I called a few companies and a few were busy because of the bad winter we had.
Then while searching on the internet I found a company called USA Homes and decided to give them a call because of the great looking photos on their web site. I guy named Mike called me back promptly and we made an appointment to have him come over. He did a complete evaluation of the house, including crawling on the ground to get under my deck. He said he would work on an estimate and get back to me. In the past I have heard that a lot of contractors will take there sweet time to get back to you, if they ever do get back. Well Mike only took about 10 to 12 days to get a complete estimate, and that was for 3 big jobs.
Mike was all that we hoped for in a home improvement company. He was always there when he said he would be. That's big these days. Second the amount that he gave us in the estimate was very reasonable, and he stuck to those prices even when small things extra were needed or some small extra labor was called for. Mike's work was excellent, very well planned out and all the finish work looks great.
The big thing that my wife loved was that he cleaned up after himself every day and never left the house or yard a mess. The biggest thing for me was that Mike put up with all my pain in the butt changes I would ask him to do mid job. " Hey mike can we make this a few feet longer" or "Hey Mike I don't mean to be a pain, but do you mind changing this, we like it better that way". If I were Mike I would have left...quickly. Mike-USA Homes is a great home improvement company. I already have several jobs lined up for Mike to do.
I would recommend Mike to anyone looking to do a small job, all the way up to a new addition to your house. His work really speaks for himself. If you need a recommendation I will gladly speak to you about his great work and professionalism. Just get my info from Mike.

The Crowley Family Meriden, CT
I am very pleased with the relationship I share with USA Homes. I have found the service to be dependable, friendly and open over the years. Mike's attention to detail and willingness to listen to my needs is extremely important to me. USA Homes has become a great asset to me and I intend to be a loyal customer for years to come.

Kristen Lyons - Walling ford

Mike was punctual, efficient, and would suggest ways to do things better and / or less expensively while still keep a craftsman's outlook. He managed my project including floor installation, wall removal, electrical and plumbing. He took responsibility for his team including sub-contractors. I felt comfortable leaving him alone in my house. He kept in contact if there was a question and contacted me with ways to improve things. Mike is a dependable professional who treated my home like his own

Steve and Beth - Newington, Ct.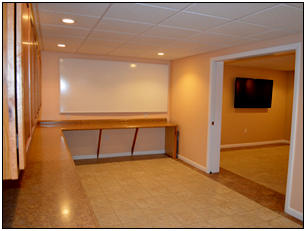 We hired Mike for several parts of our basement finishing project and we are very happy with his work. Unlike many contractors, Mike didn't try to sell us on ideas for our project that we didn't want, he didn't personally disappear from our project after a contract was signed, and he didn't unrealistically inflate his estimate price. In other words, throughout the whole process Mike was flexible, on site, and fair in price.

Mike Brezicki - Meriden, CT
USA Homes is the Right Choice! From the beginning Mike was the most professional and organized of any of the contractors we contacted. He helped us with the design and all the work was flawless. Mike really worked with us. The rec room came out looking amazing and was priced to suit our budget. When the work was done everything was cleaned up properly as well. Compare USA with any contractor and see for yourself. We would recommend USA Homes to anyone.

Bruce and Debbie-Colchester
"Excellent craftsmanship and excellent customer service. Very Easy to work with and very prompt"

Jennifer R. - Waterbury, CT
"I have hired Mike to do 5 or 6 different projects. He has completed one large job in a short period of time. He has done a great job. I would recommend everyone hire Mike. From the start when he contacted me about the job, the quote was great, his work is top notch, and he is a very nice person to have working in my home.

Renee F. - Meriden, CT
"Excellent service reasonable quick and the owner Michael was wonderful"

Kim B. - Meriden, CT
"Mike of USA Homes was terrific! He showed up promptly to provide us with an estimate, and he scheduled the work quickly when we chose him for the job. His work was skilled, he progressed quickly and the workplace was neat and orderly at the end of each day. I would highly recommend Mike for your skilled carpentry needs."

Jane B. - East Hartford, CT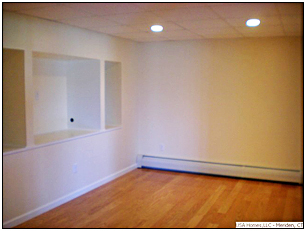 "Mike was dependable, reliable and his rates were excellent. I would hire him again."

Kristina G. - Avon, CT
"Mike was great; he improved a number of things around my home prior to listing it for sale (repainting/re-caulking baseboard and other trim, installing quarter round over linoleum, deck repair, re-taping/refinishing drywall seams, etc.). I am very happy with the results. Mike was also very good in terms of communication, timeliness and value, I highly recommend him.

C.O. - East Haven, CT
"He is very professional and personable. The job was completed in a better than expected time-frame and came out great! I am very pleased with the outcome and plan on hiring him in the future for other projects. Thank you. "

Donna M. - Glastonbury, CT

"Mike responded to the request very quickly. He was easy to work with and listened to my needs while provided good suggestions. He also did the job I hired him to do very well. I am very satisfied with his work. "

F.Y. - Ansonia, CT